Layout-101 is a first layout with click to action buttons.
Features:
Click to Call 
Click to WhatsApp Chat
Click to Links
Menu Button
Layout Options: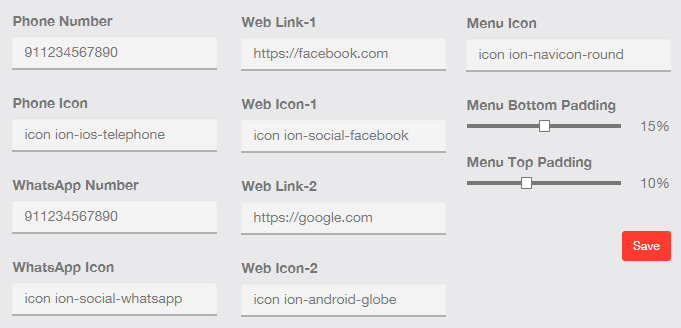 Notes:
You can change Icons using layout options. (Icons Link: www.ionicons.com)
WhatsApp number must be in international format without "+" sign.
Don't use any zeros, brackets or dashes in WhatsApp number.
There are two web links option in layout options. You can use it for website link, social media link, play store link etc. These links will be opened in external/system browser.
Functions like Click to Call will not work in desktop, but all action buttons works fine in mobile.
Frequently Asked Question:
 What is WhatsApp Click to Chat?
WhatsApp's Click to Chat feature allows you to begin a chat with someone without having their phone number saved in your phone's address book.
(Compatible with Siberian 4.20.23 and above.)
This product is sold by our partner WebVista. The support is provided by this vendor directly. You will get his support access in the purchase receipt email.
Read Our Support Policy here.
Layouts updates change-log: https://shop.webvista.co.in/layouts-updates/