Features:
Dual Menu (Toggle Menu + Main Menu)
Customizable Title Text & Background Color.
Clickable Slider with show/hide visibility option.
Customizable Slider Pager Visibility & Color.
Hide Menu items using nth-child option. 
Layout Options: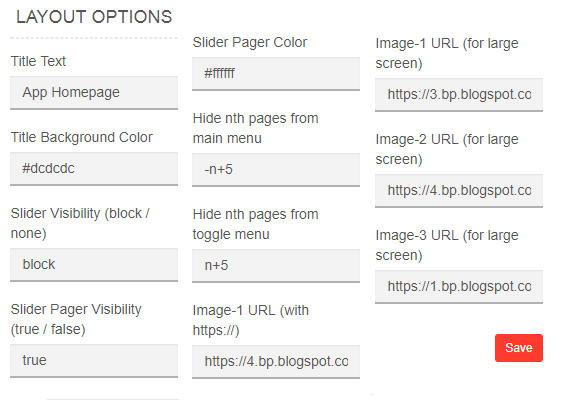 Notes:
Slider has 3 slides which consists of first three features pages of an app. This means when you click on first slide then first feature app page will open, when you click on second/third slide then second/third feature app page will open.
Slider Visibility: block = visible & none = hidden
You can also enable/disable slider pager. (true = enable & false = disable)
We have used 100% width in slider images and 250px height so for mobiles recommended slide image size is 500px*250 px and for larger screen like desktop recommended image size is 1000px*250px.
Use only https:// in Image URL.
For nth-child formula refer: http://nthmaster.com
(Compatible with Siberian 4.20.23 and above.)
This product is sold by our partner WebVista. The support is provided by this vendor directly. You will get his support access in the purchase receipt email.
Read Our Support Policy here.
Layouts updates change-log: https://shop.webvista.co.in/layouts-updates/