This product is sold by our partner WebVista.
The support is provided by this vendor directly. You will get his support access in the purchase receipt email.
Compatible with Siberian 4.20.43 and above.
The main purpose of this module is to display content based on previous – next concept. You can use this module for various purposes like quotes, tips, book chapters, stories, general knowledge etc.
Editor Module Screenshots:
Add new item: You can add a new item with title, sub-title, image URL, description, in-app-link button.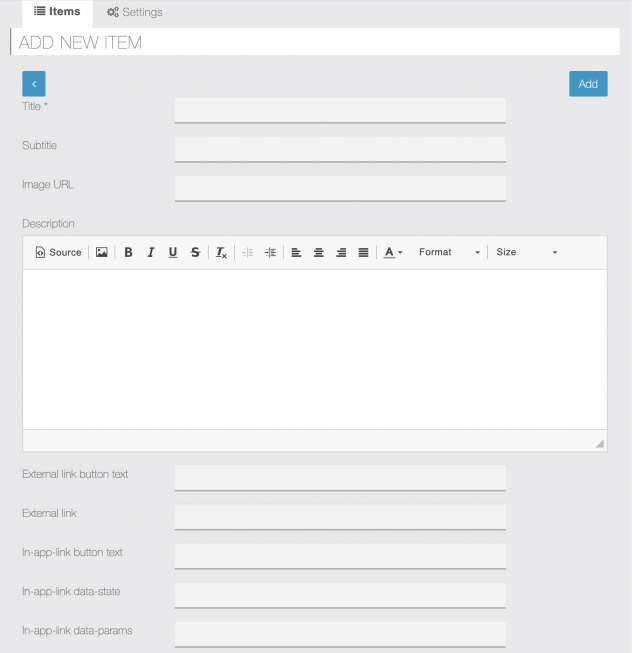 Additional comfort for customers of our Links library module:
If you have our Links Library module v1.1.0, then a link "Click here to see all in-app-links" will be shown there, otherwise it will be hidden. On click of this link, it will open a list of all in-app-links in a new browser tab, so you can easily get in-app-link data state & params.
Manage Items: You can edit, delete and reorder items using drag and drop. Items will be displayed into an app based position numbers.

Settings: You can set items order as ascending descending order. You can enable share button and set share button text. You can also include default Siberian app universal link in the share text. You can set text-align of a sub-title & description.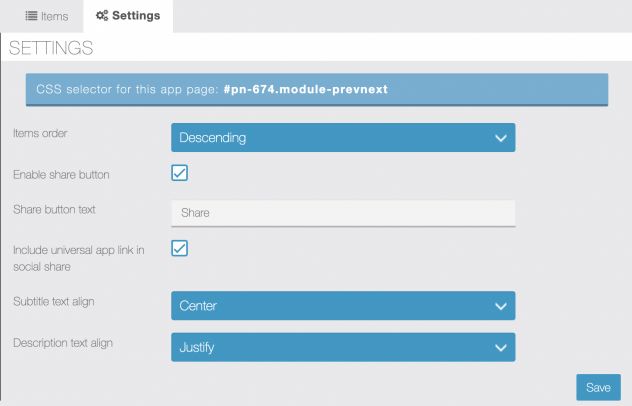 App Screenshots: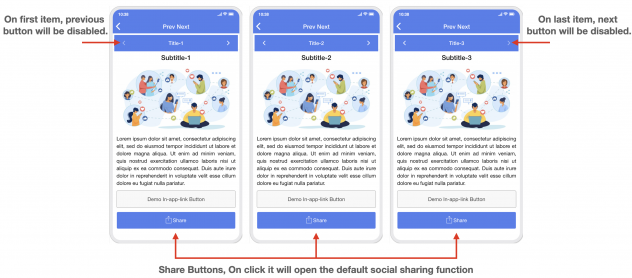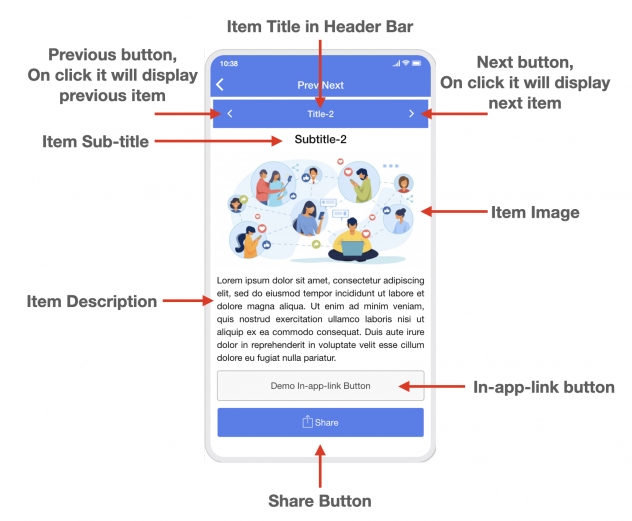 Notes:
Title header bar will be fixed, so it will always be visible on scroll.
Share function will share plain text only (title + sub-title + description). It won't share image or image URL. Description text will be converted to plain text without any CK editor formatting. We're using latest universal social sharing.
On first item, previous button will be disabled because there's no any previous item before the first item.
On last item, next button will be disabled because there's no any next item after the last item.
There won't be any swipe system, there will be previous & next button arrows.
Animated GIF Preview: https://extensions.siberiancms.com/wp-content/uploads/2023/01/prev_next.gif
Prev Next Module Demo:
You can check a live demo of the editor module here: https://appzadmin.com
Login details:
Email: demo@demo.com
Password: pwademo123
After a login, open any app and go to Features page and add Prev Next feature to your app.
Pricing:
139€ with 1 Year support & updates