This product is sold by our partner WebVista.
The support is provided by this vendor directly. You will get his support access in the purchase receipt email.
Compatible with Siberian 4.20.40 and above.
What's the purpose of this module?
Sometimes there are some minor CSS issues (like iphone footer issue) happens in all apps. Usually these types of issues are solved in the next Siberian updates. In the meantime, you can solve it yourself using CSS but if you've large number of apps and copy-paste of CSS code inside each app will be really time consuming task because you also need to remove that CSS code once it gets solved in the Siberian update. So this module will help you in such case, it applies temporary CSS code in all of your apps.
Back-office module screenshot: You can access it here: Siberian Back-office > Manage > Modules > Temp CSS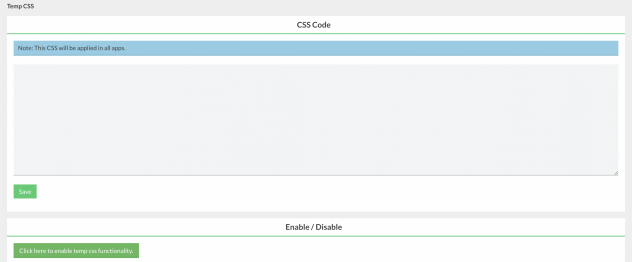 Notes:
You can enable / disable the temp css functionality by clicking on the button.
CSS code will be applied in all of your apps.
Pricing:
49€ with 1 Year support & updates