Your Siberian must be in version 4.8.12.1 or above to run this module.
The EasyAppointments module is a powerful native Siberian CMS module that allows App owners to take appointments using the App or through widget on a website. This module is linked to the Progressive Loyalty Card and loyalty points can be accumulated automatically on any different type of services. Additionally, through a web front-end interface, the App owner can add appointments to the calendar for walk-in or phone customer requests.
This module can be easily made available as a premium module for an additional setup/monthly fee and is ideal for the following types of businesses/professionals: hairdresser, barbershop, SPA, manicure, dentist, veterinary, handyman, lawyer, astrologer, etc. Any professional that sells services in time-slots can benefit from having his bookings available via de App. No more losing business while everyone else is busy tending to other customers.
The EasyAppointments PREMIUM extends the feature of this module and supports bookings for classes & workshops. Additionally, installing the Enterprise Payments module, you'll be able to accept partial or full payments for appointments.
Read the documentation here.
Features
Update 2.4.0, July 31, 2020

Bug fixing and UI Improvement
Update 2.3.12, Nov 25, 2019

Fixed: Calendar and notification reminder issues resolved
Update 2.3.11, Nov 11, 2019

Fixed calendar UI issues, The larger font size than the normal one was breaking the calendar.
Update 2.3.9, July 2, 2019

Fixed display issue on iPhone X and language issue that was breaking the code.
Update 2.3.8, June 24, 2019

Bug corrected on frontend UI – numbers appearing in front of the service description.
Update 2.3.6, June 7, 2019

Bug corrected on Options tab and redesigned the Google Sync Setup.
Update 2.3.3, April 12, 2019

Bug corrected on the scheduling on the multi-provider calendar. Provider description know supports WYSIWYG editor.
Update 2.2.3, March 27, 2019

Solved an incompatibility with the Enterprise Payments module. It's now required to install it on the server, even if you don't use it on your App.
Update 2.2, February 14, 2019

Added support for payments using the Enterprise Payments module (PREMIUM feature)
Added the Calendar feature to the Modules menu for easier access and control user accessibility.
On the Calendar management, an Activity field got added on the new appointments page
Update 2.1, October 23, 2018

Added option to deactivate/activate multiple booking of appointments.
Added some missing translations
Update 2.0.6, August 11, 2018

Added backoffice license management interface (PREMIUM feature)
Added some missing translations
Update 2.0, August 11, 2018

Booking for recurrent classes & workshops (includes room capacity management) – PREMIUM feature
Synchronization with Google Calendar – PREMIUM feature
Update 1.3, March 19, 2018

Added support for automatic credit of loyalty points to the Progressive Loyalty Card;
Added support for scheduling of multiple appointments in one booking;
Solved email [from] issue on reminder email.
Update 1.2.4, December 11, 2017

Fixed a few missing translations and date formatting issues.
Update 1.2.4, October 16, 2017

Fixed issue with background images to support landscape and portrait modes;
Added telephone number, email and booking notes do provider and store owner appointment confirmation emails;
Update 1.2.3, September 11, 2017
Added Appointments feature to in-app links on Custom Page module;
Update 1.2.2, September 6, 2017
Added option to hide prices from services;
Update 1.2.1, July 27

Fixes header & back button issues with Siberian 4.12+ versions;
Update 1.2.0, July 18

Date formatting dd/mm/yyyy or mm/dd/yyyy;
Ability to define cancellation policy (never, 1hrs, 2 hrs, 1 day in advance, etc);
Ability to cancel appointment from customer interface;
Sending appointment cancellation email;
Booking widget to be used on websites;
Services duration increased to 360 min;
Update 1.1.0, Feb. 24
Go to specific date on the calendar view
Multi-provider calendar view
Ability to add new customer from the calendar view
Appointment reminder emails
Adding a details field to provider
24hr format support
Multi-store support
Multi-category support
Multi-service support
Multi-provider support
Push notification alert prior to booking (requires individual notifications module)
Ability to define working hours for store and for each provider
Ability to add holiday period for store
Ability to add daily breaks for providers
Uses default currency setting defined for the application
Drag/drop calendar for easy management of walk-in and phone bookings
Supports buffer time between appointments
App user interface









App manager front-end interface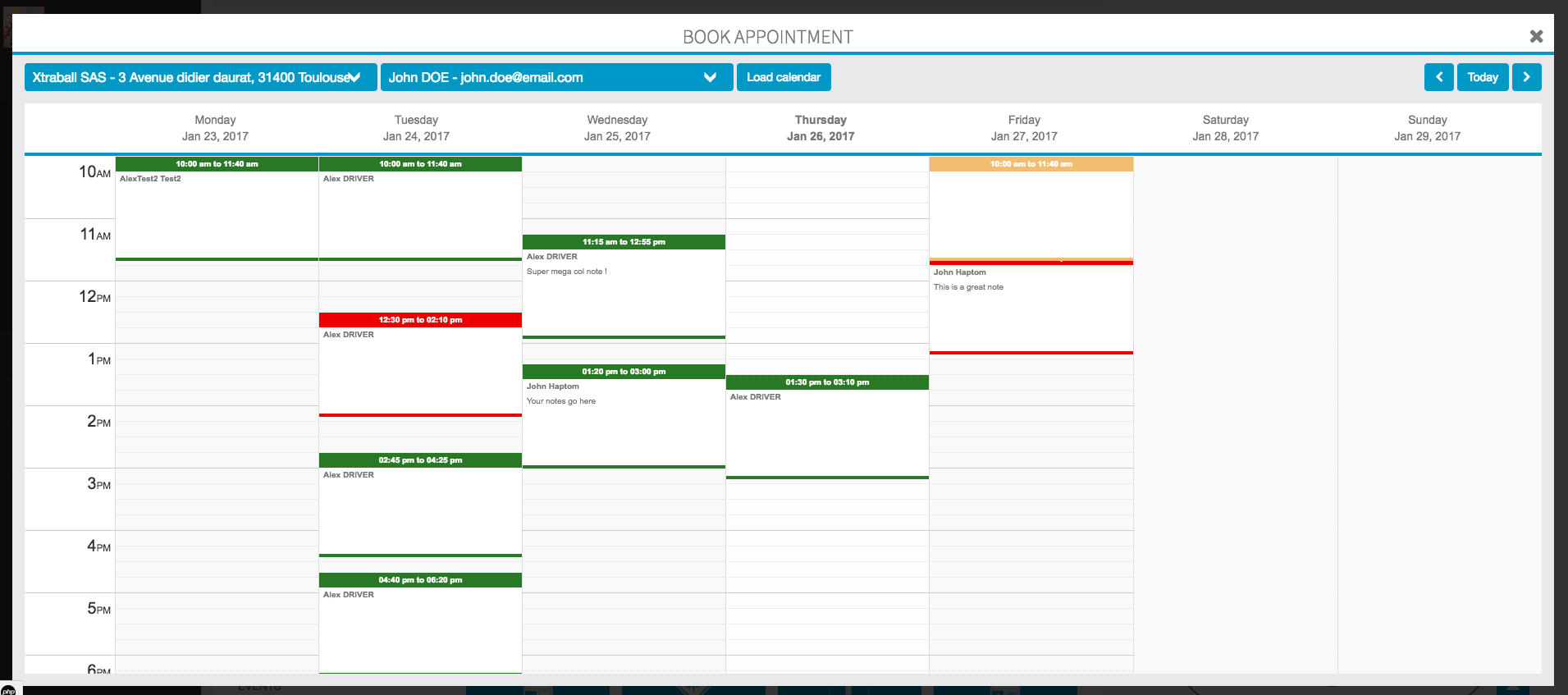 This product is sold by Dexbytes Infotech under a yearly license. The support is provided by this vendor directly. You will get his support access in the purchase receipt email.
Demo URL
https://module-siberiancms.dexbytes.com

Editor Access:
Email : demo@demo.com
Password: 123456
Price: 1 year support & updates – 249€